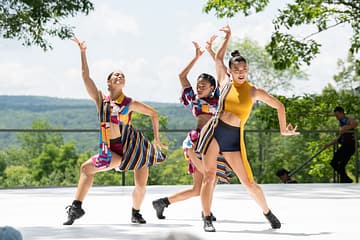 Ballet Hispánico performing Con Brazos Abiertos and Línea Recta
*Please note that tickets for this sold-out performance will be available at the door (based on availability)
Join us at 5:45 p.m.  for a pre-performance Latin Social Dance Class! 
This Performance includes a special panel discussion by the American Immigration Counsel
"Policy in Motion: How Art Can Drive Political Change"
Ballet Hispánico is the nation's largest Latinx cultural organization and "a cutting-edge crowd pleaser" (Washington Post). Led by Artistic Director & CEO Eduardo Vilaro, the Company is comprised of a group of technically profound artists who embody the complexity of contemporary dance today and will perform works by two highly sought-after choreographers, Annabelle Lopez Ochoa and Michelle Manzanales.
After immersing yourself in the world of "Con Brazos Abiertos" and "Linea Recta", you will be treated to a deep dive into how these works, and all arts, have the power to spark social justice movements. Led by Leani Garcia Torres of the American Immigration Council, the post-performance panel discussion will include Eduardo Vilaro, Artistic Director and CEO of Ballet Hispanico, as well as Scott Levy, Executive Director of Green Box. Stick around and learn about these works of dance, where they get inspiration, and how art can drive change within the immigration policy landscape.
Hourly Schedule
5:45

-

6:30 p.m.

Latin Social Dance Class
7:00

-

8:00 p.m.

Dance Performance