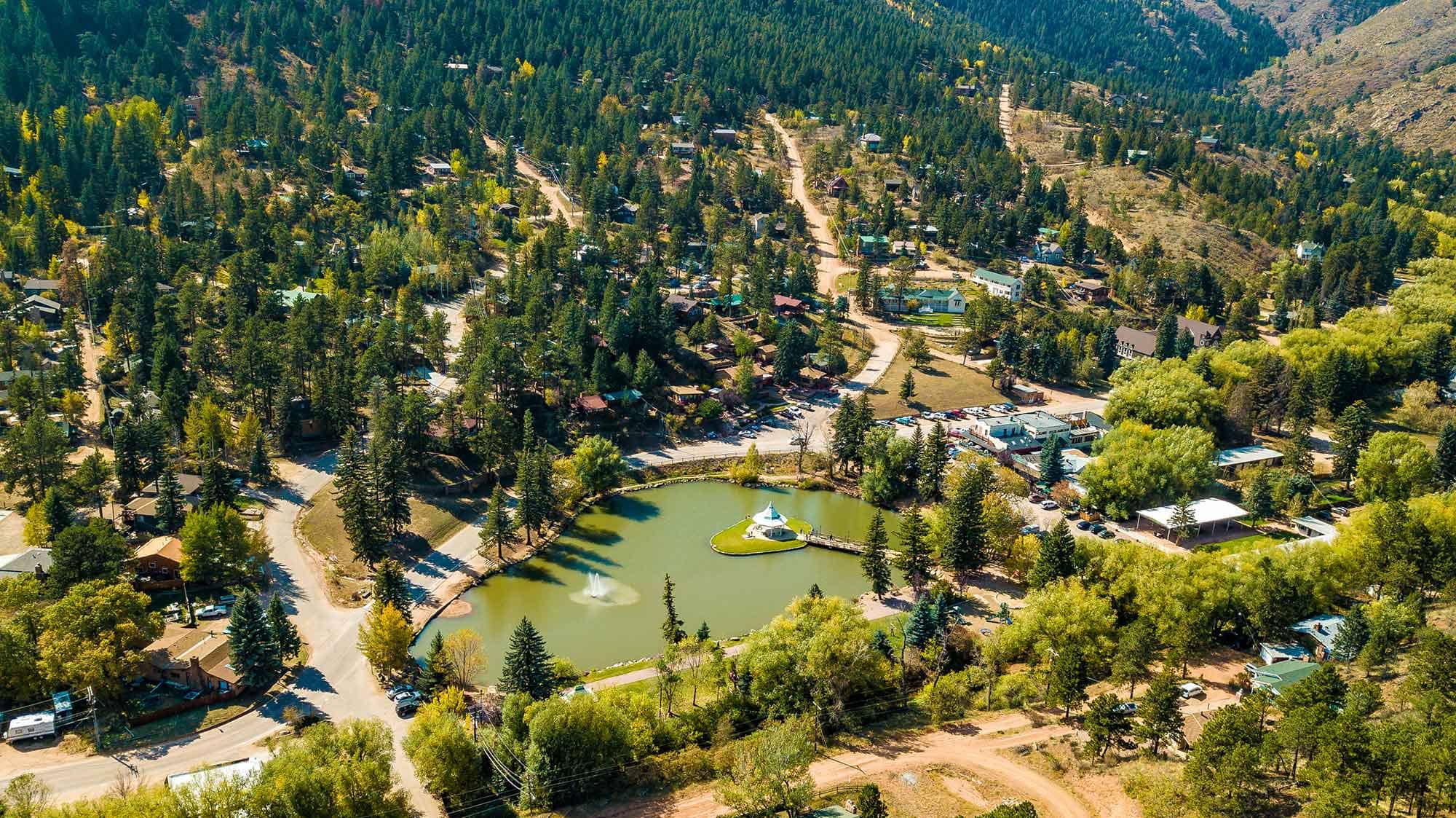 Colorado's best-kept secret is tucked in an intimate valley at the foothills of Pikes Peak: the picturesque town of Green Mountain Falls. Several charming lodging locations offer guests a comfortable and intimate retreat after a long day of Colorado adventuring. Check out these properties, or consider booking one of the many AirBNBs or VRBO properties in town.    
No matter what time of year, Green Mountain Falls makes for a picture-perfect, all-seasons getaway.
Tucked at the foothills of Pikes Peak in picturesque Green Mountain Falls, Colorado, The Outlook Lodge and Little Beaver Inn offer guests the experience of 5-star boutique hotels with a rustic feel and thoughtfully composed contemporary style and custom furnishings. Located next door to one another, the hotels provide adventure and indulgence with shared amenities such as an outdoor hot tub, fire circle, BBQ grill, and a living room, dining room, and chef-ready kitchen. Surrounded by the Colorado wilderness and more than 20 miles of hiking just outside its doors, local attractions include visits to Pikes Peak, Seven Falls, and Garden of the Gods. Seasonal activities include sledding, ice skating, hiking, fishing, white water rafting, and horseback riding.
The Green Mountain Falls Lodge, over 100 years old, was originally built in 1910 and has recently been luxuriously refurbished. The atmosphere created by the use of reclaimed wood and original design elements might initially give one the feeling of traveling back in time to visit an 1890's Rocky Mountain frontier town. However, newly remodeled rooms and modern conveniences await each guest. With up to 9 bedrooms, sleeping a total of 21 people, there is plenty of room from small to large parties. At the end of a long, adventurous day, enjoy a relaxing soak in the jacuzzi tubs found in most of the rooms. 
Call (719) 684-9392 or email manager@gmflodge.com to book your stay.
Green Mountain Falls Resorts is located 13 1/2 miles west of Colorado Springs, just a short drive from more than 30 major attractions in the Pikes Peak Region, including the excitement of live gaming in the Cripple Creek Mining District (shuttle services available from nearby Woodland Park or Manitou Springs). All of its clean vacation homes are completely furnished including linens, dishes, cooking utensils, coffee makers, toaster, microwaves, cable TV, DVD and telephone.
Call (719) 291-5389 or visit gmfresorts.com to book your stay.