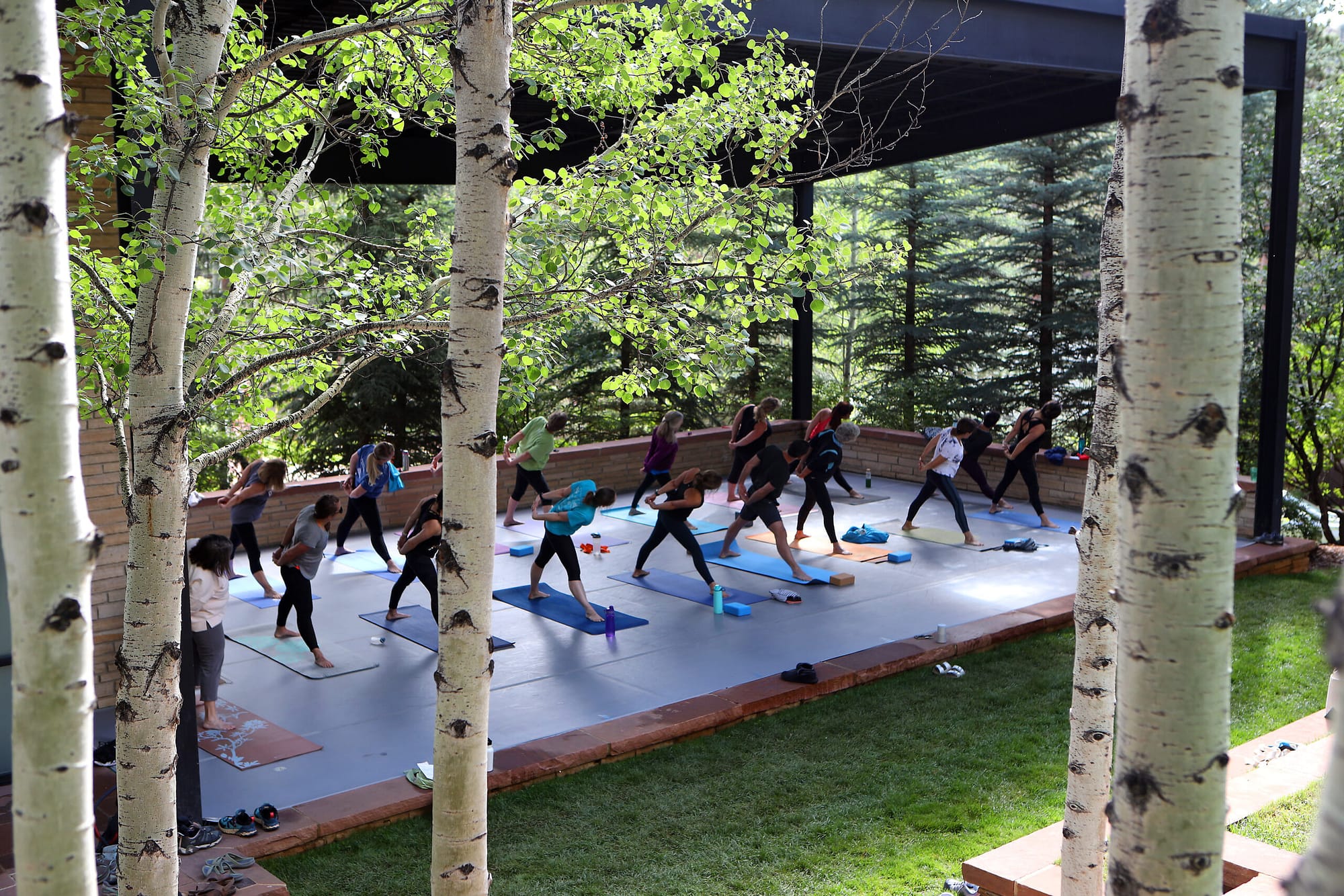 Yoga at Green Box
Immersion into yoga, art & nature
Yoga at Green Box is intended for you to get away from your daily routine and offer space for you to nourish, unwind, and breathe the mountain air. Yoga practice will be offered twice daily by teachers Andrea Lodico & Marcus Berardino — the morning sun will be our companion for a vigorous vinyasa flow and we'll embrace the typical afternoon rain showers that pass through during our restorative practices. In between, you'll dine on delicious, locally-sourced meals by chef Nick Foster, hike nearby trails that offer stunning vistas, cliffs, and waterfalls, and enjoy conversations, a lot of laughs, with time for self-reflection, discovery, and quiet.
The schedule will offer plenty of opportunities for practice and to engage with the town's incredible art, including the newly-opened Skyspace installation, created by internationally-renowned contemporary light and space artist James Turrell. Overlooking Gazebo Lake and surrounded by aspens, the Green Mountain Falls Skyspace by James Turrell will be composed of materials sourced from Colorado. Viewers of Skyspace have the opportunity to step into a distinct experience melding light and color; offering a shift in perception. Throughout our week, we'll experience a unique intersection of art, meditation, and contemplation.
Abundant free time will be provided throughout, as well as optional activities, so you can choose what kind of retreat experience you would like. Massages and bodywork sessions will be available for an additional cost for extra self-care and nurturing.
Yoga at Green Box is specifically designed for you to realign and recalibrate in a setting that allows you to connect more deeply with yourself, your innate sense of wonder, nature, and community.
All housing is a short walk to / from yoga studio and meals
A limited number of spots WITHOUT accomodations are available for local residents. Select "resident rate" when registering.
No. Registrants must purchase their own travel to Green Mountain Falls. We are happy to arrange for group transportation for an additional cost.
Chef Nick Foster is happy to provide meals according to your dietary restrictions. Please communicate these needs in the participant survey shared in your confirmation email. 
No. Participants are encouraged to explore the Pikes Peak Region's many attractions in their free time, but transportation and entrance fees are NOT included in retreat package.